The PCL is almost gone, and only a few graffiti clad buildings remain to be removed. We thought Massey residents would  be interested in the following photo that the Auckland Libraries, West Auckland Research Centre has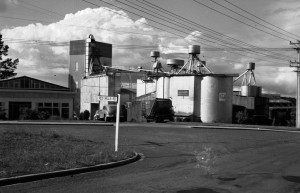 kindly sent. The photo is part of the JT Diamond Collection. The photographer is unknown, however the photo would have been taken around 1966.
The second photo shows the delivery of eggs to the PCL. I wonder if anyone knows who the gentlemen are. Again the photo is courtesy of Auckland Libraries West Auckland Research Centre and form part of the JT Diamond Collection of photos
Both photos will be framed and displayed in the Den with appropriate captions.