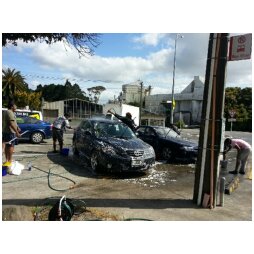 The Shalom Celebration Centre meet every Sunday and many other days through the week up here in our hall, using both the Den and the Hall for a variety of activities.
On the second of November they held a car wash and market day and well, Secretary John Riddell paid his $5 and got his new Mazda Axellea washed. A very good job indeed.
The Church are planning more fundraising days up at the hall over the next few months as well, and not to pay the high rents that are charged by the Association either!!!!!!
If you want to hire the hall for an activity please contact John Riddell on 8336972, or email on [email protected], leave your phone number and name.
Currently Monday and Tuesday nights are available in the hall, while Tuesday and Friday nights in the Den are available at night.
Monday in the afternoon in the hall is also available. Session times are charged out in two hourly lots.