Keep Waitakere Beautiful Trust is calling for nominations for the annual EcoWise Awards. The awards celebrate hard working Westies who get stuck in and do their bit for the environment.
Any West Auckland individual or group is eligible to nominate either themselves or others.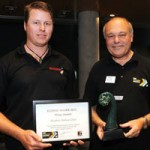 "The West is lucky to have so many people who actively care for the environment. The evening is the highlight of our year and a chance to come together and celebrate" says KWBT Chair, John Riddell.
To nominate yourself or someone you know visit www.kwb.org.nz
Nominations close: Friday 17th October 2014
Karaka Award  – For the West Auckland community garden making a difference
Brent Peters Award –For the West Auckland graffiti contractor who goes over and beyond the call of duty
Rata Award – For the West Auckland school caretaker who makes a difference
Kahikatea Award – For the West Auckland teacher who empowers students to care for the environment
Nikau Award – For the West Auckland business taking action to care for the environment
Puriri Award- For the West Auckland school or pre-school that educates students to care for the environment
Kowhai Award–For the West Auckland student leader who cares for the environment
Totara Award– For the West Auckland group who cares for the environment
Kauri Award – For the West Auckland individual who cares for the environment
Awards ceremony: Friday 14th November 2014