Every Friday between 9.30 and 10.30am in the morning a group of ladies meet in the hall with the aim of getting fit  and having fun. They would love you to other Massey Ladies to join them.
2013 was a good year for them and Brenda the Fitness League instructor  is looking  forward to another year of classes and social activities year.
The Fitness League believe the Massey Birdwood Settlers Hall's facilities are excellent and Brenda loves taking classes in our hall.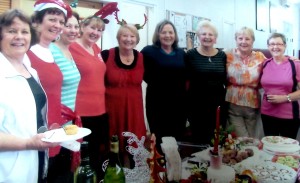 It is not only the classes that are themselves but the social chat the ladies enjoy  have over tea coffee & biscuits
(or if lucky some home baking) in the hall after the  class.
During the year the Fitness league also has get-togethers outside of class, and the  class has  organised to go to Blossoms for brunch on one occasion, however for Brenda the highlight of the year was the Christmas breakup when she  got to put on her Antlers and play Xmas music while exercising, after which their was lots to eat.
Events on the calendar this year include : A weekend retreat of exercise and fun at Vaughan Park, to be  held in March, and a Spring Luncheon at Rose Hotel Parnell, with a  trip out to Waiheke Island for the  Christmas breakup.
These activities gives members a chance to socialise as well as exercise with others.
This year planning  will also start for a trip to the UK as next year is the Leagues anniversary which they
hold at the "Royal Albert Hall". Those that go will get a chance to stand on the hallowed floor of the
RAH. Brenda has been  their twice and believes there is  such an amazing feeling  and would like to see a
great turnout from New Zealand and Friday MBSA class.
Drop in and meet the ladies  at the Fitness League classes on Fridays between 9.30am and 10.30am.
nb – click on Fitness – third paragraph and you will go to the Fitness League website, or you can click on their link under Hall users links on the left side of the page.