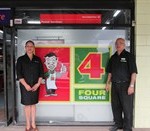 Hobsonville Four Square was the winner of the `My Favourite Local Business' vote at the Massey Means Business Launch on Tuesday 12th November. The business was chosen by Tweet (Margaret) Nuku of the Open Wananga and was nominated for customer service – a comment found regularly by the customers and clients of Massey businesses.
The photograph shows the owner of the business alongside Tweet in as posted on the this website plus Massey Matters and Massey Means Business Facebook pages.
The launch event was a great success, held at the Massey Birdwood Settlers Hall and attended by a wide range of business owners, their staff and interested community members.
Speakers included Lee Hickey presenting details of the project and its many features and objectives, John Riddell from the hall  on how a facility such as this affects and includes the services of local businesses, Gil Ellis from ATEED on the challenges and opportunities for small to medium businesses in the current climate, plus Vanessa Neeson an enthusiastic supporter of the programme and member of the Massey/Henderson Board – now the principal funder.
A common interest in information on the planned developments in Westgate and  along the North-West corridor was expressed by  many of the attendees, and this is clearly seen as a vital local issue. Massey Means Business is an obvious vehicle for updates and information into the future.
With a growing number of businesses now registered on the database, the future of the network and its incorporation within Massey Matters assures a continuation of the goal: Trade/Work/Live Local