Operation Spring Clean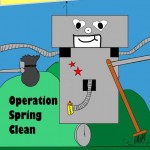 Love the West? Take action and clean up our streets, parks, beaches and reserves. Every Spring Keep Waitakere Beautiful raises the call to action and encourages schools, service organisations, sports clubs, churches, community groups, businesses and individuals to take an active role in cleaning up our environment.
Last year West Auckland residents removed over 40 tonnes of litter, inorganic rubbish and invasive weeds – a mammoth effort!
Operation Spring Clean is delivered in partnership with Auckland Council – equipping individuals, groups, schools and businesses with rubber gloves, bags and jumbo bins to clean up the West.
 Want to join us in 2014? Registrations are open now: