One of the groups that use our hall is the English Language Partners.
Based in New Lynn English Language Partners run classes for new migrants.
Moving to a new country and being unable to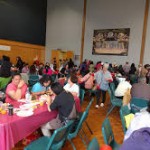 speak English is a huge barrier to social integration and gaining employment, English Language Partners do a marvelous job in helping new migrants, many of whom live in Massey.
As discussed with John Riddell,  English Language Partners arranged a visit to Western Springs for our learners and were unable to cover the cost of the bus fare from the donations paid by them, so Massey Birdwood Settlers donated some money which covered this, meaning 65 people were able to visit this lovely part of Auckland for a day out.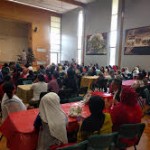 English Language Partners also arranged an end of year celebration for all the learners and have shared photos from the celebration of  those new to our community enjoying a meal at New Lynn Community Centre.
To find out information about English Language Partners click on the link under hall users to the left of this site or alternatively check out our venue page and click on English Language Partners.