Everyone reads the newspapers and probably wishes to see the headlines that suggests the country is growing.
However when the country grows, that means there is probably more housing, more people and more students attending our local schools, which are situated in suburban NZ. Right?
And when they are high schools that probably means students driving to schools – what ever happened to walking, cycling and catching the bus?
Of course City Planners have stopped planning for 6 metre plus roads in suburbia now days as well, so when developers build a subdivision near a high school, with a consent from the Council allowing for narrow roads (which keeps the cost down for the developer you understand), the quite suburban street becomes  a myth.
So it is for those living in  Mantra Rd, Cityview Pl and Jammen Drive.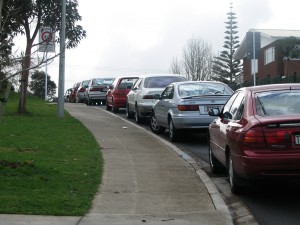 The problem is that it is not just for an hour at the beginning and end of a school day, that the frustration of  living near a major high school and the vehicle movements that result is felt, it is all day. It  means the Residents cannot park outside their own properties from 8am-3.30pm nor can their visitors.
At 3.10 the problem doubles as not only do 100 students piling into the area but also Parents using the narrow streets as a drop off and pick up point. This causes massive congestion and noise. A lot of young (generally male) drivers  constantly do wheelies, burnouts and generally show off to their mates to great applause. This is ripping up the roads.Large groups congregate before and after school often displaying anti-social behaviour. The  streets are only 5 meters wide with cars parked down one side and traffic using the other. When speeding teens are told to slow down, it earns a tirade of abuse.  Just to want to live peacefully and respectfully in their our own neighbourhood is the reason why   resident's are requesting "Residents Only Parking". Surely Residents take precedent for parking outside their own homes given the dangerous, often disrespectful behaviour shown by some (certainly not all) students.
The dotted yellow lines that indicate no parking areas are fine, however a premium is then  placed on the parking bays.
The residents have approached Auckland Transport through the Association for a resolution to their problems.
Is anyone else having trouble with school parking issues? Not just City View Heights, but other areas in Massey, close to Massey High, and other areas in the Henderson Massey Local Board area for that matter, that are close to our major colleges?  Henderson High, Waitakere College, Rutherford High, St Dominics are all major schools.
The Association would welcome your views.
[polldaddy poll=6333489]