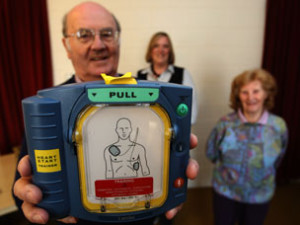 Back in May 2009 the following story and photo appeared in theAucklander, a community newspaper published by the NZ Herald. The Aucklander is now only available online. The story was written by Aucklander reporter, Joanna Davies.
It's the beating heart of the community, a place where people from all ages and walks of life gather to learn and play.
Now the Massey Birdwood Settlers Hall is set to be safer than ever, with the purchase of a piece of life-saving equipment. By Joanna Davies
Massey Birdwood Settlers Hall is busy every day of the week.
If it's not the Massey indoor bowling club rolling up, parents are bringing their children in for kindergarten or kung fu classes.
Pauline Stratful says the hall is so well used that it's time to upgrade its first-aid equipment.
Massey Birdwood Settlers Association is buying a defibrillator to keep in the hall.
It is one of many groups buying them for offices and sports clubs.
"We have a lot of older people who use the hall, and it takes 20 minutes for an ambulance to get here, so we thought it would be great to be on the safe side and have one here,' says Mrs Stratful, who manages the kindergarten.
A defibrillator is used if someone suffers a cardiac arrest, and can reduce the risk of death by as much as 40 per cent.
It sends an electric shock around the body to normalise the person's heartbeat.
Sadly, one of the advocates for better equipment is not around to see the upgrade.
Last year, the association's president, Pam Flynn, died after a sudden heart attack at the hall. Gerald Flynn says his wife was always helping to upgrade the hall's facilities.
"She had talked about getting more medical equipment for the hall, because she was a very community- oriented person, and the association had been talking about getting a defibrillator for a long time before she passed away.'
The defibrillator is costing the association about $4000.
Association vice president Brian Lay says the purchase is a very positive addition to the public space.
"It's always been our policy to upgrade the hall where we can, and because we have so many people using the hall every day, we think it's a good idea to have one.
"We are looking at training our regular hall users just in case they need to use it.'
St John's business development manager Dean Kelly says it's heartening to see more and more community groups buying the machines.
"Earlier on, most places that bought them were bigger sports clubs and large offices but, now, more and more church groups and community centres are getting them because so many people go to them.
"The fact that they have become so easy to use is one of the main reasons why centres are buying them,' he says. "You don't need to be first aid-trained to be able to use it.'
The association's defibrillator arrives in the next month.
"And it's not going to be just for us,' says Mrs Stratful.
"Anyone who lives close might need it, and it will be quicker to come here than wait for an ambulance.'
A thousand New Zealanders suffer cardiac arrests every year, and there is only a 5-8 per cent survival rate if a defibrillator is not available. joanna.davies@theaucklander. co.nz
nb – The local Doctors surgery and the Massey Police have a key to the hall in case of an emergency