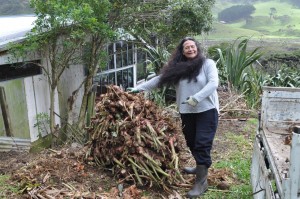 It's that time of year again when folk get stuck into weeding and get rid of their pest plants in the 14 free weed bins that Keep Waitakere Beautiful Trust have dotted around West Auckland from March 1 to 31.
Supported by the three Western Local Boards, War On Weeds regularly generates over 100 tonnes of green waste each year – the bulk of it invasive weeds like wild ginger, woolly nightshade, jasmine and trasdescantia.                         
 The Massey bin is located Massey Library car park, corner of Westgate Dr and Don Buck Rd. For other bin locations and details of what can and can't go into the bin visit http://kwb.org.nz/war-on-weeds/ or like our facebook page https://www.facebook.com/KeepWaitakereBeautiful.
In the photo Georgia Harmon from Te Henga has a pile ginger ready to be taken away and is taking advantage of the annual "War on Weeds" to do just that.